Jurassic World: Dominion Dominates Fandom Wikis - The Loop
Play Sound
In Alternate History, a "wank" is where one nation is extremely successful.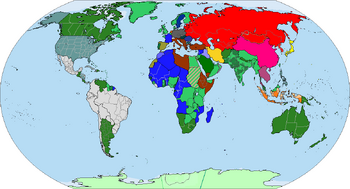 Of course, the term has drifted quite a bit. The original idea was that the nation was being wanked beyond all plausibility; e.g., Romania rising to conquer Europe in a PoD set after 1800.
However, it has drifted to where wanks are merely considered implausible, but possible, and some timelines specifically set the goal of wanking a nation plausibly. And wanks aren't necessarily unrealistic: a person from the Chaos TL by Max Sinister would probably claim that our universe was an awful case of Mongolwank.
The name presumably connotes a patriotic AH writer masturbating to a map of their homeland. (Wanks are almost always of their own nation.)
Contrast with Screw, its exact opposite.